It is time to elect a new president.   The two major candidates have been scrutinized under the media microscope and both have cooties.  Just about everything important about them has already been discussed, so why waste time dissecting their political positions?  Here are the issues that really matter when considering who to vote for.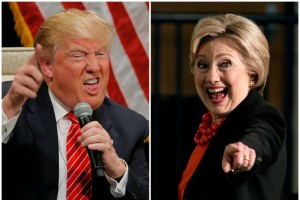 Attractiveness – One candidate looks like a pumpkin atop a refrigerator; the other is Christopher Walken in drag.  Advantage: radio.
Likeability – Hillary is warm like Siberia and sincere like Fagin from Oliver Twist.  The Donald is a foul-mouthed braggart who has lived a life of privilege and cheap fame.  Advantage: either VP candidate.
Debating skills – Hillary speaks with the perfect practiced precision of a polished politician.  Trump talks in generalities and platitudes and is often redundant.  They are to great oration what IHOP is to fine cuisine.  Advantage: Hillary.
Fashion – Hillary has the fashion sense of Chairman Mao with a platinum card.  Trump has a lot of expensive suits.  Political fashion is easier for men.  Advantage: Trump.
Age – Youth or experience?  Youth promises vigor but wisdom comes with experience.  Trump just turned 70 and Hillary is 69.  Advantage: nevermind.
Spouse – Former president Bill Clinton is a charming, though aging, womanizer with a bulbous nose and raspy voice.  Melania Trump is a former fashion model with a sexy Eastern European accent.  Advantage: Melania!
Children –  Trump has spawned at least five children with at least three women.  Bill and Hillary produced a single offspring, which is probably enough.  Despite the undeniable negatives of all the parents in this race, their kids seem to genuinely like them.  Advantage: trust funds.
Inspiration – One is a slightly creepy, old curmudgeon who has done nothing in their lifetime to inspire anyone but has amassed great personal wealth without doing any real, honest labor or sacrificing anything.  Which one am I referring to?  Advantage: does it matter?
Sex appeal – What? Gross!
Honor – Well, let's see…  Trump has said things about women that would embarrass a convict.  He apparently hasn't paid taxes since he was a teenager and as a businessman has cheated more than a few folks out of their earned wages.  Meanwhile, if lies were French fries Hillary would be the McDonalds of American politics.  She has more whoppers than Burger King!  Whoever said there is honor among thieves never met these two.  Advantage: organized crime.
Is there any good news about this election?  You bet!  I think it is leading millions of people to become Christians.  I know this because I hear so many people saying, "God help us!"