The movie A Christmas Story is a big part of my family's holiday tradition. We watch it every Christmas, often multiple times. We quote lines from the film and have numerous movie-related ornaments on our tree. A few years ago we took our kids to Cleveland to see the actual house featured in the movie. My son has a Red Rider BB gun and we own a full-sized, authentic leg lamp that we proudly display in our front window during the holiday season.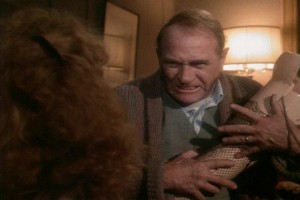 One reason I like A Christmas Story so much is the Darren McGavin character, "The Old Man." He is both a loving family man (devoted husband, giver of BB guns) and a grumpy, cantankerous fussbudget (the Bumpass hounds, the furnace). He delivers some of the most memorable lines ever spoken in cinema. When he bellows, "you used up all the glue… on PURPOSE!" I actually feel his pain and anger.
The movie is a touchstone for me. Every Holiday season is stressful and chaotic. Lots of social activities, places to go, things to do, and gifts to buy. The pace quickens as Christmas day nears. By the time I reach Christmas week my life is a frenzy. I'm exhausted and weary – I just want the day to arrive so we can stop the insanity.
Then, on Christmas Eve, we turn on the TV and hear the familiar tune "Deck the Halls" from the opening sequence of A Christmas Story. I get excited as Ralphie, Randy, Flick and Schwartz rush to see Higbee's window, a high-water mark of the pre-Christmas season. Me? I am the Old Man, grumbling through life, hoping to win the sweepstakes based on my trivia knowledge. The Lone Ranger's nephew's horse? You'll find out at the end of this blog.
My family has seen the movie countless times, so we often lose interest after the first half hour of the first showing. Nevertheless, we keep it on as a comforting backdrop to our Christmas conversations. We occasionally throw a movie quote into our conversations just to see if others are paying attention. What does it look like I'm doing, picking goobers?
Christmas is all about the birth of Jesus. I know that. I'm as thankful as anyone that God would become a baby and eventually give His life for me. But I'm also thankful for the ancillary memories and traditions of Christmas. They bring joy, too, and remind me that life is built on the crazy, unique things that bind a family together. Right now I am imagining the closing scenes of A Christmas Story, with The Old Man and Mrs. Parker snuggling on the sofa, sipping wine as the snow falls outdoors. Meanwhile, Ralphie drifts off to sleep with his prized Red Rider BB gun as "Silent Night" plays. Few things are more comforting to me.
And the name of the Lone Ranger's nephew's horse? Victor, of course. Everybody knows that.