Memphis is a wonderful and weird town, a melting pot of Southern charm, African-America heritage and blue collar/redneck ethos.  The city is a cultural petri dish full of interesting, creative, sometimes oddball characters.  Perhaps this explains why professional wrestling somehow took root and became legendary here.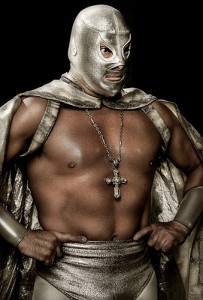 Jerry "The King" Lawler, Sputnik Munroe, Superstar Bill Dundee, Handsome Jimmy Valiant… in some local circles these grapplers are more revered than Elvis, Jerry Lee or Al Green.  Pro rasslin' is woven in the fabric of Memphis as much as Beale Street and the Mississippi River.  Sure, it's stupid and low brow, but like your crazy Uncle Lou, it's part of our Memphis family history and there's nothing we can do about it.
Memphis didn't invent wrestling.  The ancient Babylonians enjoyed a tussle and so did the Egyptians.  Among the oldest recorded wrestling matches is in the Bible. Genesis 32 relates the story of Jacob and his all-night fight with "a man," which theologians say was the pre-incarnate Jesus.  In simple language, Jacob was rasslin' with God.
Why would God choose to wrestle anyone?  Seems an unfair match.  No one is in God's weight class, so to speak.  But according to Genesis, God and Jacob fought to a draw.  How could God not win?  He's God!  Perhaps the story is a metaphor.  Nevertheless, at daybreak, God decides to end the match by dislocating Jacob's hip.  Ouch!  Jacob must have been one tough hombre because refused to capitulate until he received a blessing.  God, impressed with Jacob's pluck, tells him that from now on he will be known as Israel, which loosely translated means "God-wrestler."
Lots of Christians wrestle with God.  It happens when God wants us to think or behave in a certain way but we resist.  It may be a sin issue like the soft porn we allow ourselves to watch or the amount of alcohol we consume.  Perhaps we have a bad attitude about specific people.  It could be we are selfish with our time or money.  God wants to shape our character but we insist on resisting.  The struggle may be in the form of the Holy Spirit gently convicting us (which can feel like guilt).  Eventually, He may escalate the conflict and bring pain into our lives.  Our Father wants our full submission and He will fight to get it.
Sometimes a problem or tragedy can lead to a God-battle.  When trouble comes, most believers turn to the Lord for help, but if their problems persist, they may become impatient or angry with God.  "Why have you forsaken me!?!"  In such times, the Lord may be silent to test your faith.  It's not because He is unsure about your commitment; He already knows how you will respond.  The test is for you.  Do you really believe the promises of God ("I will never leave you nor forsake you." Hebrews 13:5) or are you just a fair-weather Christian?  It is in the struggle that you discover your level of spiritual maturity.
Perhaps you doubt God.  You may become angry with Him.  You can, for a time, think God does not love you.  You can emerge from these life crises with emotional scars.  That is often how God teaches us full submission.  Deep, abiding faith and genuine obedience can be hard lessons.  Sometimes He must dislocate our hip, metaphorically, to humble us.
I have wrestled with God a few times.  I ask, "Where are You?  Why am I suffering?  Don't You care?"  Like a good Father, He often allows me to struggle in order to increase my faith and build my character.  What I have learned is this: over time, God always keeps His promises.  Our wrestling matches are strenuous, but they help build spiritual muscles.
"I have said these things to you, that in me you may have peace. In the world you will have tribulation. But take heart; I have overcome the world."  John 16:33
Also read and discuss Romans 5:1-5