We live in the suburbs.  Four bedrooms and a two-car garage.  We've lived in the same house for 27 years.  The grass is green and the AC works just fine.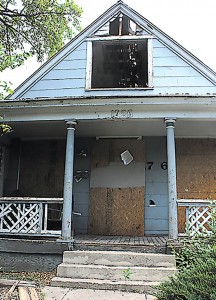 My 19-year-old friend Dee guesses that he has lived in 30 different locations in his lifetime.  In the five years I've known him, he has stayed in at least 10 different places, all in the worst parts of the city.  Sometimes his family – as many as 11 kids and his mom – has lived in abandoned houses or in tiny, roach-infested apartments.  Electricity and food were not always available; violence and crime were plentiful.
Dee said about 17 of his friends and acquaintances have been killed during just his teenage years.  I have no reason to doubt him, having seen these neighborhoods up close.  Most were killed by guns, though at least one was struck by a car.  He said his uncle was shot while holding a baby.
I met Dee through a mutual friend.  The friend found Dee on a basketball court in Orange Mound, one of Memphis's poorest neighborhoods.  He offered Dee a bottle of water and conversation.  While many of the African-American ballers were skeptical of the strange white dude, the ever-affable Dee was happy to meet someone new.
The friend started bringing Dee to our suburban mega-church.  Dee was different than most of the students, rougher around the edges and more poorly dressed.  He told me that as a young kid he often wore the same clothing for two or three weeks at a time without washing.  This embarrassed him and he felt gross, but what's a kid going to do when your mom doesn't have a washing machine or money for the laundry mat?  Momma has congestive heart failure and asthma, conditions that have put her in the hospital on numerous occasions.  When she is in the hospital, the kids have to fend for themselves.
Dee, have you ever been hungry?  "Lots of times."  He said he has slept in cars and on cold floors because there was no bed, blankets or heat.  "But I was okay because I had a hoodie."  Mom kicked him out on a few occasions after arguments.  Sometimes he would call me.  I picked him up one night outside a cheap motel where the local assistance agency had put them up for the night.  He was about 16 at the time, shivering in gym shorts and a tank top because it was 40 degrees.
Dee rarely got into trouble like some of his friends and siblings did.  He credits the advice of older people in the neighborhood who explained the consequences of drugs and crime.  Dee's younger half-brother didn't listen.  Now 16, the kid brother already has a long criminal record that includes car theft, gun possession, attempted murder and kidnapping.  Another younger brother has a rape charge among other crimes.
At church Dee met people who, for some reason, were interested in him.  Sometimes they took him home for a meal.  They bought him birthday and Christmas gifts.  They took him on youth retreats.  "I got to know who God was," Dee said.  "I had some deep conversations with some of the counselors.  I realized I was lost.  I also realized I could have a better life."
It was on a youth trip that Dee heard God whisper to him, "You're ready for this."  With some counseling, Dee became a follower of Jesus and was baptized.  Now he says, "I want to do something different with my life, I want to change my family's future."
Dee says his home life is better these days, though far from ideal.  Some of his siblings are grown and two are currently incarcerated.  Only the younger kids remain, and Dee helps out by watching them when Mom is at work or sick.  Dee works at a community gym.  He has a girlfriend and is considering moving to another city for a fresh start.
"My life is definitely better than it used to be.  I have some cool friends that love me.  My mom and I get along better.  I finished high school and then my sister went back and got her GED, so maybe I was a good influence on her.  I'm trying to help the younger kids and keep them out of trouble."
Dee tells me his story with little emotion or self-pity.  He knows his life is normal for an inner-city kid; there are thousands more like him on the streets of Memphis.  Many may never know that there is a God who loves them and has a better life waiting for them.  They'll never know unless someone tells them.
The question is, what am I doing to help the other "Dee's" who are out there?
"But if anyone has the world's goods and sees his brother in need, yet closes his heart against him, how does God's love abide in him?" – 1 John 3:17