When I am alone and singing, I sound great!  Someday I will be discovered by a talent scout or rock group in need of a front man.  Yet, when I sing in the presence of others, there is wincing followed by unkind comments.
I am conflicted.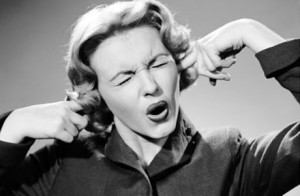 The sad truth… I have no vocal talent.  In fact, my wife and kids openly mock me.  I smile as if my singing is just a joke, intentionally self-deprecating to elicit laughs.  Inside I weep, my inner Rod Stewart crushed by the knowledge that I have no talent.  At all.  Whatsoever.
Well, what do they know.  Their singing sucks, too.
The unintended consequence of my family's ridicule is that I am very self-conscious during worship time at church.  I have been conditioned to keep quiet, lest I draw the ire of other worshippers.  If people hear my caterwauling, I might get the stink-eye, that ugly expression people make when someone says something inappropriate or they smell flatulence.
So, I've learned to keep quiet.  A friend once told me that if you are embarrassed to sing, simply mouth the words "watermelon" over and over.  It looks like you're singing but you're not.  I tried this for a brief time but soon realized she probably told me that as a prank to make me look stupid.
We are told in Scripture to worship.  Psalm 98:4, "Make a joyful noise to the Lord, all the earth; break forth into joyous song and sing praises."  But my voice is not joyful noise, it's annoying, like my schnauzer's howling.  This raises the question; can we worship in non-musical ways?
Sure.  Prayer can be a form of worship, and unlike singing, I pray pretty good.  So, I often pray silently while others are belting out "Great Are You Lord."  This, of course, makes me look pious to others, and that satisfies my Christian ego, but I question my own motives.
Reading the Bible can be a worshipful experience.  Tithing, too.  These are great things that bring glory to God, but when I examine Scripture closely, I get the feeling that singing to the Lord is a non-negotiable. "Oh sing to the LORD a new song; sing to the LORD, all the earth!" (Psalm 96:1).  Not much gray area there; God wants singers.
Pleasing God is not the only reason to sing.  Singing can be a blessing to others when they see our sincerity, though they may want earplugs.  The sight of dozens or even hundreds of people singing together creates a mood that invites the Holy Spirit, which is necessary for real worship to occur.  Christian songs and hymns often reinforce truths about God that are powerful and motivating.  To sing these truths as praise to God is pleasing to Him and refreshing to our spirit, like health food for the soul.
When pride interferes with my singing, it is important for me to remember that the heart of worship is surrender.  God seeks total submission from His people, and that's a good thing.  Total submission to God brings peace, the peace that surpasses all understanding.  Total submission is essential in our sanctification, a churchy-word that simply means being more like Jesus, and being like Jesus should be the goal of every believer.
I'll bring you more than a song
For a song in itself
Is not what you have required
You search much deeper within
Those are lyrics from Michael W. Smith's song, "The Heart of Worship."  God's loves to hear his children sing, but the song is not the thing.  He seeks out heart.  That is something worth singing about, even if you get the stink-eye.
"Sing to the Lord, all the earth! Tell of his salvation from day to day.
Declare his glory among the nations, his marvelous works among all the peoples!  For great is the Lord, and greatly to be praised, and he is to be feared above all gods.  For all the gods of the peoples are worthless idols, but the Lord made the heavens.  Splendor and majesty are before him; strength and joy are in his place."  – 1 Chronicles 16:23-27